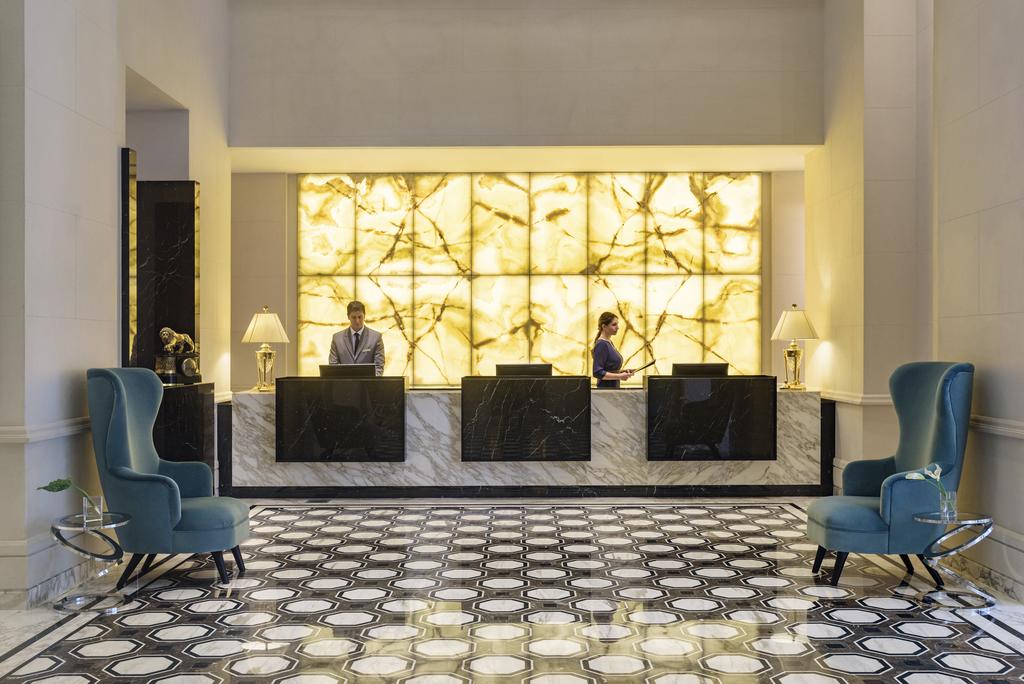 Alvear Icon Hotel
Alvear Icon Hotel & Residences is a proposal for passionate travelers who crave exceptional experiences. Located in Puerto Madero, the most cosmopolitan neighborhood of the city, enjoy the most incredible views of the city and the River Plate, staying in its luxurious and comfortable suites, discovering the wide variety of restaurants and bars; and relaxing in the splendid Beauty & Wellness Center. Alvear Icon Hotels & Residences is the perfect reflection of the modernity and energy that characterize vibrant Buenos Aires.
ROOMS & SUITES
Superior (Size 45 m2)

Deluxe (Size 45 sqm)

Deluxe Grand View (Size 45 sqm)

Junior Suite (Size 50 m2)

Junior Grand View (Size 50 m2)

Executive Suite River View (Size 81 sqm)

Icon Suite (140 sqm)
GASTRONOMY
Start your day with a superb breakfast buffet at Kayla Restaurant while admiring the breathtaking views from the 31st floor.
The modern and elegant restaurant integrates the magnificent silhouette of the city and the river through its large windows.
At night, Chef Diego Novo displays his creativity and innovative vision and immerses us in a delicate combination of flavors, textures and colors.
With vast experience, he brings you a selection of local products, interpreted with cutting-edge cooking techniques.
The menu includes entries such as pickled mullet fish, smoked duck, black pudding croute, among others. A special mention deserves the homemade breads, with organic flours made with sourdough.
The main dishes include Argentine meats, pastas and fish, while the dessert proposals are pure temptation.
An unforgettable gastronomic experience with one of the best views of the city.
In a contemporary design environment, Crystal Bar shines with a mixture of tobacco and golden colors, where the great central bar, undisputed host, runs through the tables that discreetly coexist with comfortable private livings.
Our expert bartender created a varied and original cocktails list to let loose of your senses, with a precise alchemy of flavors, aromas and colors. The gastronomic offer highlights snacks that accompany and pair with drinks.
Surrounded by incredible panoramas, Crystal Bar is the perfect setting to cozy up with friends, after offices, or romantic dates, while with mastery, the DJ Franco entertains and distends with house music.
Tuesday and Wednesday from 6 PM to 1 AM
Thursday and Friday from 6 PM to 3 AM
Saturday from 7 PM to 3 AM
A modern lunch offer in Puerto Madero, ideal to organize corporate meetings and share relaxing family weekends.
It serves buffet lunches and Sunday Brunch that include a salad bar with a variety of fresh seasonal products; meats, poultry, fish, and pasta; plus desserts and sweet specialties by our Chef Pâtissier.
Located in a central space, the lobby bar is the ideal proposal for those who seek a casual atmosphere. Discover innovative drinks created with original combinations of flavors.
BEAUTY & WELLNESS
Spa in Puerto Madero
Located on floors 19 and 20, the fabulous spa & fitness center envelops our guests into a deep sensory experience. Equipped with a curtain-wall joinery that covers the 8 meters high center and a transparent sliding roof, it offers breathtaking panoramic views of the city and the river.
An exclusive water circuit that includes dry sauna, steam bath, Scottish showers and a vitality pool. In a quiet space to relax, unwind and rehydrate with fruits, selection of loose tea and lemonade.
In our complete hi-tech gym filled with sunlight, a team of trainers offers customized fitness programs tailored to continue your fitness routine away from home.
A team of expert therapists welcome you with a wide menu of massages, facial and body treatments, as well as special programs designed for beauty and skin care.
EVENTS
The Convention Center with a capacity of up to 1200 attendees, and exclusive access, is the venue for the most important events in the city.
Its elegant Onyx and Coral rooms are ideal for social gatherings and business meetings, which, due to their flexibility and functionality, make it possible to organize simultaneous meetings adapting customized requirements.
A team of professionals dedicated to every detail of the organization, which added to the latest generation technical equipment and excellence in cuisine, ensure the success of your event.
BUSINESS CENTER
Equipped with state-of-the-art technology and designed for the corporate market, Alvear Icon Hotel & Residences offers a complete Business Center with eight meeting rooms with a capacity of 6 to 16 people.
Productos Relacionados / Related products