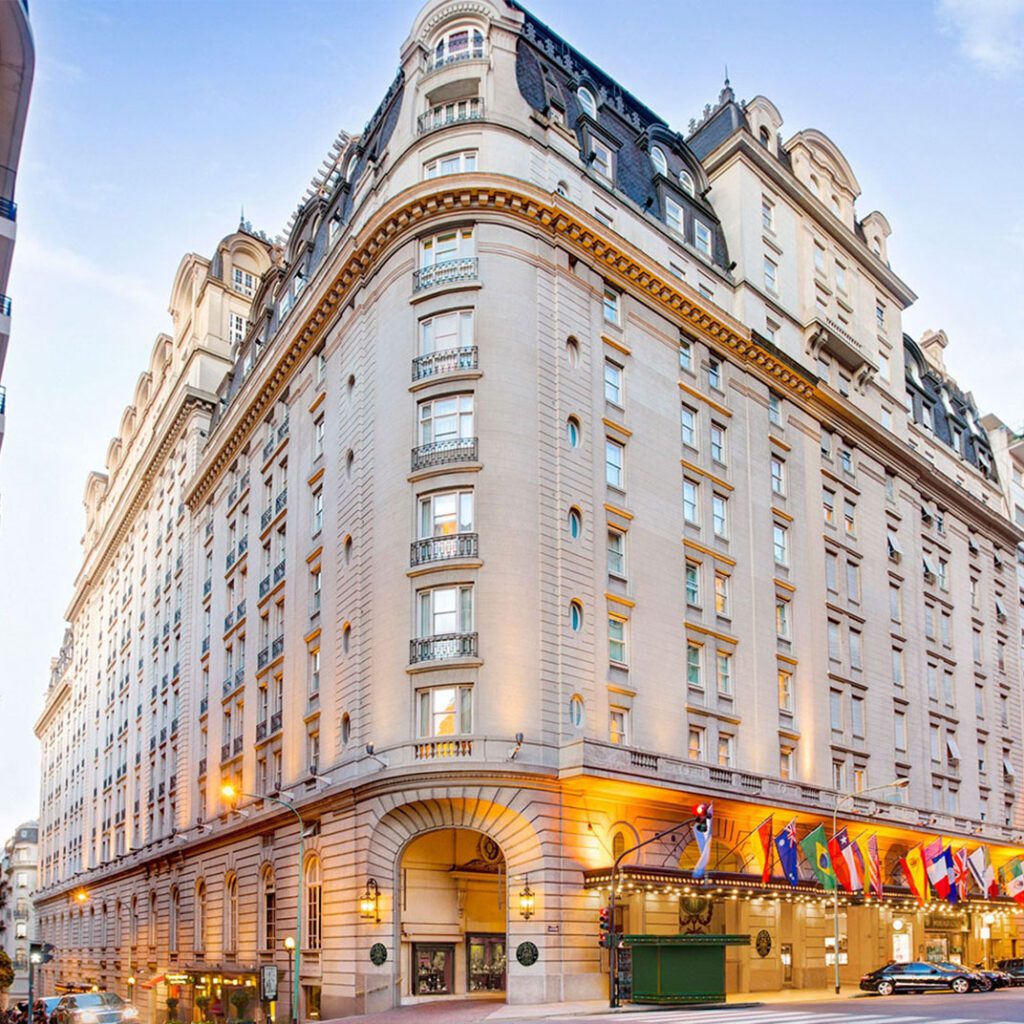 Alvear Palace Hotel
The distinction of a unique style. Luxury Hotel in Buenos Aires. The Alvear Palace Hotel is one of the most luxurious hotels around the world. The hotel features magnificent architecture and décor and is recognized worldwide for its unparalleled combination of hospitality and personalized service. The Alvear Palace Hotel is the perfect place to discover a different way to enjoy the city. The Alvear Palace Hotel's elegance as well as its caring and dedicated staff, guarantee a remarkable experience for everyone who visits the hotel.
ROOMS & SUITES:
Palace Classic (Size 30 sqm)

Palace Premier (Size37 sqm)

Junior Suite (Size 48 sqm)

Premier Junior Suite (Size 48 sqm)

Deluxe Suite (Size 60 sqm)

Prestige Junior Suite (Size 48 sqm)

Premier Deluxe Suites (Size 60 sqm)

Prestige Deluxe Suite (Size 60 sqm)
LOUNGE SUITES:
Junior Lounge Suites (Size 45 to 50 sqm)

Deluxe Lounge Suites (Size 55 to 60 sqm)

Junior Suite Le Mirador (Size 45 to 55 sqm)

Deluxe Suite Le Mirador (Size 55 to 60 sqm)

Roof Garden Suite (Size 95 sqm)
GRAND SUITES:
Diplomatic Suite (Size 70 sqm)

Governor Suites (Size 73 sqm)

Governor Executive Suite (Size 73 sqm)

Alvear Suites (Size 104 sqm)

Presidential Suite (Size 114 m2)

Executive Presidential Suite (Size 157 sqm)

Royal Suite (Size 176 sqm)
Restaurantes & Bars
ALVEAR GRILL
Experience a fresh take on classic Argentinian cuisine. Modern elegance is combined with an innovative and contemporary steakhouse concept.
Led by the experienced chef Sergio González Crubellier and Chef Pâtissier Melisa Amato, Alvear Grill is undoubtedly a renewed interpretation of major identity local cuisine, which surprises both tourists and the local public.
The new proposal joins the new trends of Argentine cuisine to taste premium meats. The menu offers à la carte selected non-traditional cuts of steak – unique in the market -, from the wood-burning grill of quebracho and espinillo behind the glass, in view of the relaxed diners who enjoy preserved from the classic aromas of firewood and spices embers.
With an elegant and current presentation, the meats go with garnishes of complex flavors, which perfectly pair with each cut. In addition, the menu also has vegetarian options.
The complete wine list has a wide variety of labels from Argentina and the world, while a cocktail bar run by sommelier Lucio Rossi prepares light appetizers created to accompany the different dishes.
Open Hours: Tuesday to Saturday from 7:30 p.m. to midnight.
L'ORANGERIE
The L'Orangerie restaurant at the hotel is a traditional meeting place in Buenos Aires. A splendid breakfast and international buffet lunch, which includes a great variety of exquisite local products, can be enjoyed daily in a delicate environment with natural lighting and meticulous décor, presented with the mastery of international culinary techniques.
Breakfast:
Our elegant restaurant and its cozy Jardin D´Hiver present a complete buffet for breakfast, with a variety of pâtisserie and confectionery prepared on site.
Room Service:
In the comfort and intimacy of your room you may enjoy the long menu of cold and hot dishes, desserts and snacks, around the clock.
LOBBY BAR
As from 1932, this has been a meeting place for businessmen and celebrities of Buenos Aires' society.
The heart of Recoleta beats in this exclusive place in the hotel, decorated with original French style wood panelling. The Lobby Bar of the Alvear offers delicious appetizers and the best international drinks, paying homage to the great cocktail masters.
ALVEAR ROOF BAR
House music and an open-air terrace with splendid views of Recoleta and its parks. The Alvear Roof Bar creates an ideal ambiance to relax in comfortable armchairs and to admire unforgettable sunsets from the 11th floor.
At nightfall, it becomes the best option in the city to enjoy small bites, a selection of light dishes and original signature drinks.
Closed on Mondays and Tuesdays.
SPA & FITNESS CENTER
SPA
Beauty Programs
Relaxation Programs
Special Treatments
WELLNESS AREA
This area, created specifically to provide an intimate atmosphere, features steam baths, saunas, pressure showers, ludic pool and relaxation rooms.
The temperature and humidity from both the sauna and steam baths help to relax, purify the skin and favor the circulatory system.
To crown this experience, a hydro-massage circuit allows for a well-deserved relaxation session.
VITALITY POOL
The combination of air and water is a pleasure for the body and a gift to your health.
SENSATIONS PATH
Enjoy a relaxing and stimulating walk, over a carpet of pebbles, a pleasant circuit with different temperatures and water pressures.
FITNESS & KINESIS
FITNESS CENTER
The Alvear Fitness Center is equipped with state-of-the-art cardiovascular and muscle-building technology.
One area devotes a special place to cardiovascular training and another to muscle building, with the assistance of specialized staff and top-notch equipment.
Guests can enjoy TV screens, Italian Technogym training, and fitness test programs.
KINESIS
The Kinesis program draws on a new approach to training designed to focus on both the mind and the body.
Unrestricted and gentle flowing movements using a cable system that allows for natural, three-dimensional movements helping maximize performance.
POOL & SOLARIUMS
HEATED POOL & BAR
The rooftop indoor pool and accompanying Pool Bar are located on the 11th floor, with complimentary access for hotel guests year-round. The pool is sustainably heated and has an additional space for whirlpool baths. Not to be missed the Pool Bar with a varied menu including juices, smoothies and sandwiches.
SOLARIUMS
Available to all guests, enjoy sunny days in Buenos Aires surrounded by vertical gardens, while relaxing at the two terraces with solariums on the uppermost levels. They feature deck chairs and a solar-heated shower on the 10th floor for freshening up after sunbathing.
SERVICES
BUTLER SERVICE
Exclusive service for Alvear Suite and higher categories, and Lounge Suites. A team of butlers offers assistance to guests, helping to make their stay a unique and memorable experience.
BUSINESS CENTER
Our very complete Business Center has been organized to satisfy the needs of our business guests.
The latest in technological instruments for business meetings is added to the elegance and excellence of the service that can only be provided by the Alvear Palace Hotel.
The Business Center has the permanent assistance of professionals, and is equipped with:
6 offices with 22" flat screen computers.
Broadband Internet access and wi fi.
100MB broadband availability.
Scanner.
Flipchart.
Rental of additional technical equipment.
For those of our guests who prefer to use their own laptop we offer a special desk and wifi.
CONCIERGE
The Reception at the Alvear Palace Hotel has highly informed staff, being members of the prestigious Union Internationale Des Concierges D'Hotels Les Clefs D´Or.
Our concierges are experts at anticipating our guests' every need, above and beyond their expectations, thus making their experience of the City of Buenos Aires a unique and memorable one.
Productos Relacionados / Related products