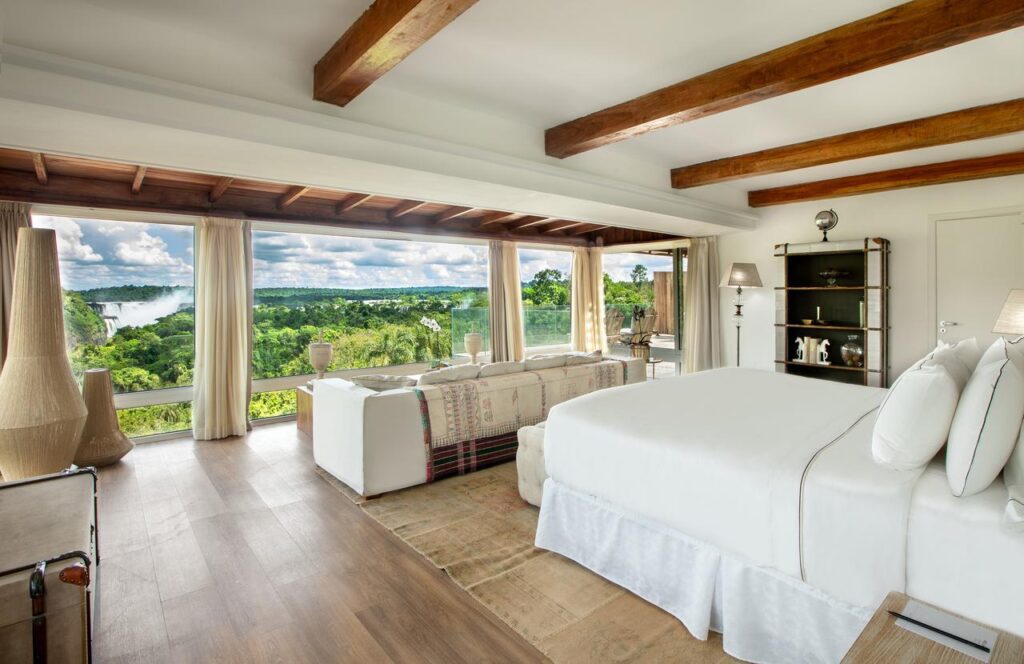 Gran Meliá Iguazú Hotel
A Hotel wrapped in the energy of Iguazú National Park.
The superb location of the Gran Meliá Iguazú offers stunning views of the jungle and Iguazú falls. Rest in a quiet and peaceful atmosphere, immersed in the mystical energy of the Paranaense jungle.
DESCRIPTION
. Located in Iguazu National Park, 10 km from Puerto Iguazú airport and 30 km from Foz do Iguaçu international airport, Brazil
. Discover one of the Seven Natural Wonders of the World and the fauna and flora of the Alto Paraná Atlantic forests. Visit Devil's Throat, the 3 Borders Landmark and more.
. Enjoy a gourmet journey in our 4 bars and restaurants. Sample tropical fruit and argentine steaks accompanied by a fine wine or exclusive cocktails.
. Unique hotel with rooms and suites overlooking the falls. Make your experience even more memorable with our Red Level service with exclusivity as its essence.
. Fantastic infinity pool with waterfall views. Wellness area with Yasí Spa, hydrotherapy circuit, saunas and 24-hour gym.
. Extensive facilities for groups. Meeting and events area for up to 600 people with a full range of food and beverage services.
Immerse yourself in a natural sanctuary in the heart of the Alto Paraná Atlantic forests, where the Iguaçu falls, one of the 7 Wonders of the Natural World majestically tumble alongside the Gran Meliá Iguazu.
Every detail has been designed surprise you, from exclusive decoration replete with work by regional artists, to the "Welcome Elixir" made from yerba mate and a secret ingredient taken from the jungle.
Rest in our rooms and suites, all with views of the falls, relax by the infinity pool or savour the exquisite Argentinean cuisine.
Note: Entrance to Iguazu National Park is not included in the rate.
ROOMS AND SUITES
Gran Meliá Iguazú is the only hotel with rooms overlooking the falls.
Deluxe Room King Size Bed – Jungle View

Deluxe Room Twin Beds – Jungle View

Deluxe Room King Size Bed – Falls View

Deluxe Room Twin Beds – Falls View

RedLevel Room King Size Bed

RedLevel Room Two Beds – Falls View

Junior Suite RedLevel – Falls View

Deluxe Junior Suite

Grand Suite Red Level

Presidential Suite RedLevel – Falls View

Royal Suite Red Level Falls View
RESTAURANTS
Get ready to enjoy a gourmet adventure in the sophisticated ambience of our Merkado Restaurant serving international cuisine and Argentinean specialties. The hotel also has 3 bars, including a fantastic rooftop bar with views of Iguazu Falls.
MERKADO RESTAURANT AND BAR
With excellent service, the hotel's main restaurant is a welcoming and friendly space with local-style decoration and views of Iguazu Falls, one of the 7 Natural Wonders of the World.
LOBBY BAR & LOUNGE AMARO
The elegant decor of the Iguazu Restaurant complements the wide variety of delicious international specialties. Be seduced by the aromas and flavors, a dining experience which will never be forgotten.
A sophisticated and sensual atmosphere bringing modern colors and textures to the classical style of our Lobby Bar an accompanied by live jazz or electrotango. Relax and admire the awesome Iguazu falls, one of the 7 Natural Wonders of the World, as you sip on an exclusive cocktail or drink on the large terrace.
Cuisine: Classic drinks, tapas and sandwiches.
POOL BAR GALA
GALA is more than just a pool bar, it is a luxurious and restful experience immersed in the serenity of the forest, serving delicious, fresh cuisine such as tasty hamburgers and typical local snacks or an ice-cold beer or cocktails made using tropical local fruit. Cuisine: salads, grills, cocktails. 
ROOFTOP BAR ALTER
"The place to be" in Puerto Iguazu with highlights including the magnificent views of the sunset over the incredible Iguazu Falls, one of the 7 Natural Wonders of the World.
A cool ambience with superior-quality mixology and an exclusive drinks menu designed by Inés de los Santos, one of the best-known bartenders in Argentina. A menu of sparkling wines, dried fruit, snacks and live music with DJs will make your experience even more special.
YASÍ HEALTH CLUB & WELLNESS CENTRE
The perfect setting for purification and rediscovering your inner self under the ancestral spell of the Goddess of the Moon and the jungle of Misiones.
Yasí Health Club & Wellness Centre offers a selection of relaxing and energetic rituals based on the properties of yerba mate, a powerful antioxidant and source of vitamins and minerals.
Its modern facilities include a 24-hour gym, hydrotherapy circuit, 5 spa suites, wellness circuit with dry sauna, steam room and hot and cold showers. Large changing rooms with lockers, free amenities, permanent service and outdoor relaxation area with comfortable gazebos and Bali beds.
Productos Relacionados / Related products