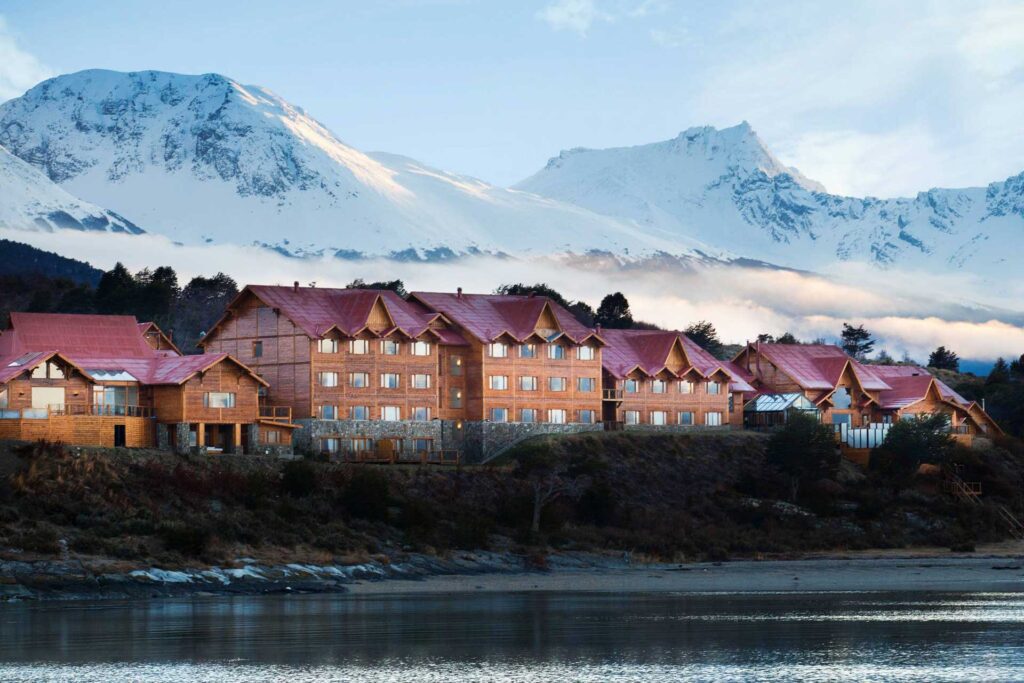 Los Cauquenes Resort and Spa
Los Cauquenes Resort and Spa
The only 5-star hotel located on the beaches of Beagle Channel in one of the most exotic places in the world with a beautiful view of the snow-covered peaks of the imposing Andes Mountain Range.
Los Cauquenes matches his rustic architecture in lenga wood and stone, with an impressive natural surroundings to offer a unique experience in high standard hotels.
The rooms are the highest expression of comfort. It has 54 rooms, 5 of them Suites with privileged views of the Beagle Channel or the Andes Mountain Range. All of them are equipped and decorated to meet the needs of the most demanding guests.
You will be able to find the following special Services and features to make your stay an unforgettable experience:
Babysitter – Individually controlled heating – WI FI access in all the hotel facilities

Luggage and Skis Storage – Drugstore/ Handcrafts and Souvenirs Shop – Parking

Special Room for Guests with reduced mobility – Laundry & Dry Cleaning

PCs with Internet access – Satellite TV – Frequent transfers to town

Transfers to Cerro Castor (during ski season)
At this Hotel also there is a SPA to enhance all the guests life quality through physical activity, body care and esthetic treatments and mainly through the relaxation and peacefulness offered by a unique environment.
You will be able to choose from an exquisite selection of massages, facial and body treatments, or just relax in our sauna or hydro-massage pool. The recently opened and completely fitted fitness area and an indoor/outdoor pool, add variety, tranquility and balance for a totally renewed self.
Request your quotation/ Solicite su cotización
Payment methods / Medios de pago

Productos Relacionados / Related products