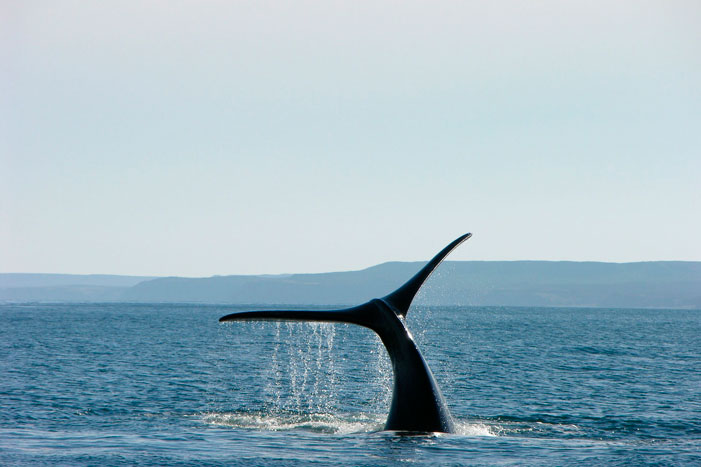 Tour to Puerto Madryn 4 days 3 nights
Tour to Puerto Madryn 4 days 3 nights
The Southern Whale´s paradise and the land of half million Penguins!
Day by Day
DAY 1 – in Puerto Madryn
You will begin your tour to Puerto Madryn taking off from Buenos Aires airport. Once you land in Trelew, a tourist guide from ATN Travel Services will be waiting for you with a sign with your last name to transfer you to your hotel in Puerto Madryn.
DAY 2 – in Puerto Madryn
After breakfast, you will enjoy a full day excursion of «Peninsula Valdés and Whale Watching.» This great tour will take you to a place chosen by UNESCO as a Natural World Heritage. Our first stops are at the Ameghino Isthmus and the Center of Interpretation, followed by De Los Pájaros Island and an opportunity to view the colony of sea lions in Punta Pirámides. Once we arrive at the village of Puerto Pirámides, we will embark in a Whale Watching Ride that will transport you one or two miles out to the sea to approach the Whales.
The boat trip also lets you witness the many colonies of cormorant birds, sea wolves, and, if you're lucky, dolphins (including commerson dolphins) that may show up to jump and play in complete freedom, directly in front of you! During the summer you also can go snorkelling in the gulf's transparent waters.
DAY 3 – in Puerto Madryn
You will enjoy a full day tour to Punta Tombo. During the tour, we will go to the penguin rookery in Punta Tombo, which is one of the largest colonies of continental penguins in the world. You will get to visit an extensive beach, the ocean, and more than a half million penguins! After that you will visit Gaiman, one of the towns that best represents the culture of the Welsh colony that settled in Argentina. Here, you will have the opportunity to enjoy some delicious Welsh tea. Afterwards you will head back to Puerto Madryn.
DAY 4 – in Puerto Madryn
Transfer to the airport. Return to Buenos Aires. End of the Puerto Madryn tour.
The tour includes:
Flights: Buenos Aires – Trelew – Buenos Aires.

Transfers In/Out Airport – Hotel – Airport.

Full-day tour Peninsula Valdés with Whale watching.

Full-day tour to Punta Tombo (penguin's colony) and Gaiman (Welsh colony).

3 hotel nights with breakfast included in Puerto Madryn.

English/Spanish speaking tourist guides.

Group Service sharing the bus with other tourists.

Quality in Services.

The Puerto Madryn tour doesn't include:

Entrance fees to the reserves.

Airport use tax in Trelew City.
Note: In Punta Tombo, penguins can be found from September to mid-April. Whale watching is available from June to mid-December.
This trip can be tailor-made for a time to suit you and can be adapted to suit your interests, budget and requirements as necessary.
Productos Relacionados / Related products