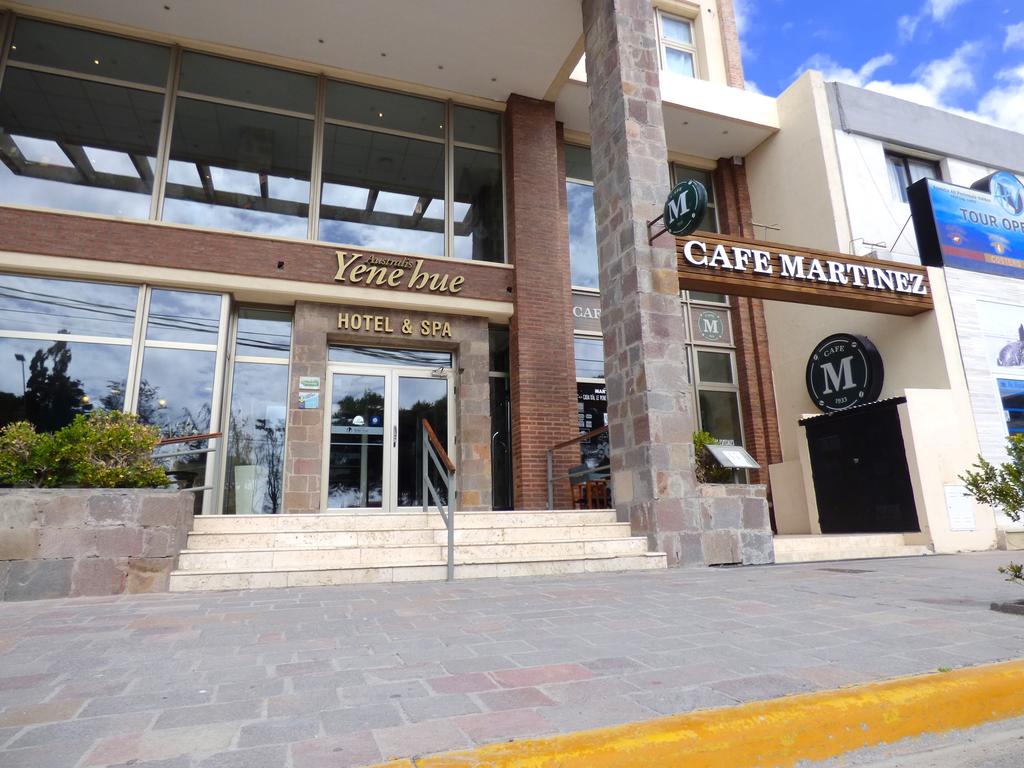 Australis Yene Hue Hotel
Yene hue means place of whales in the Mapuche language. About Av Roca, New Gulf-front and the cruise ship dock, minutes from the Valdes Peninsula is located strategically in the city and only 116 km from Punta Tombo, the famous penguin colony in Patagonia
It is built on an area of ​​1000 m2 and has 11 plants to favor the best views, 71 rooms, a complete SPA a tango themed restaurant and meeting rooms. This hotel offers the more sophisticated approach to this destination.
It offers indoor heated pool, hot tub and rooms with sea and city. It also has free Wi-Fi and spa treatments.
The rooms are stylish and feature cream walls, upholstered chairs and heating. Some also have a private spa bath. Some bathrooms have a bathtub.
Every morning a buffet breakfast with regional jams and other delicacies. Facing South The restaurant overlooks the sea and serves typical Patagonia.
The reception is open 24 hours a day and offers a currency exchange service. The Tehuelche Airport is 5.8 km.
The hotel offers:
Restaurant / Bar

Non-Smoking

Facilities for Disabled Guests

Elevator

Safe

Soundproofed Rooms

Heating

Luggage

No smoking in the entire hotel

Air Conditioning

Restaurant (à la carte)

Private parking
Activities are:
Sauna, Fitness Centre, Spa & Wellness Centre, Hot Tub
Services:
Room Service

Business Centre

Babysitting / Child Services

Laundry

Money exchange

Fax / Photocopying

Internet Free! There is Wi-Fi available throughout the hotel. Free.

Parking

Private parking is available nearby. It can be booked.
Salons:
The Hotel has two rooms located on the 2nd floor and two business center that can
joined together and with the restaurant offering 400 m2 equipped with technology
generation for conducting meetings, receptions, conventions and groups
work, among other events.
The Restaurant "Looking South":
An ideal place to enjoy the pleasure of good food. It has ample capacity and exceptional sea view, with international cuisine and extensive wine can also access our Spa bar and lobby areas.
Accessibility
Architectural Accessibility: Ramp Access to the hotel, Vertical Circulation in all public areas of the hotel, 2 rooms accessible: doors, windows and toilet adapted for disabled guests, 1 toilet adapted for disabled guests in restaurant sector, Lifts adapted with audible alarms.
Accessible communication: Registration form in Braille, 1 room accessible: Braille display the room number, telephone with alarm and light, internal rules and SPA refrigerator letter in Braille and augmentative, Letter Bar and Restaurant in Braille and augmentative.
Security: We protect and alarm system, Plan and updated evacuation plan.
Trained: In sign language and through experiential workshops on awareness accessibility guidelines. Staff trained in first aid and CPR.
Request your quotation/ Solicite su cotización
Payment methods / Medios de pago

Productos Relacionados / Related products