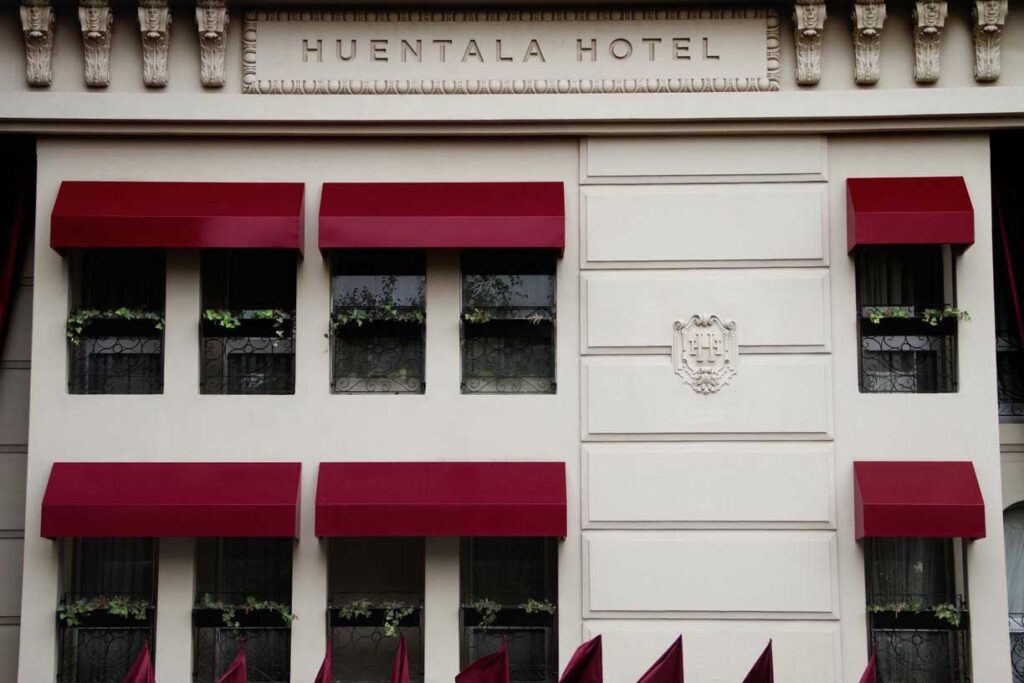 Huentala Hotel
It offers a privileged location within the urban heart of the city of Mendoza. The Huentala Hotel is located just one block from the main street of Mendoza, San Martin Street, and two blocks from the pedestrian and commercial and financial center of Mendoza city between reference points is only 600 meters from Independence Square to the airport 10 minutes and major shopping malls.
The traditional Huentala Hotel was founded in 1976, becoming a landmark hotel in the province of Mendoza.
It is one of the first two 4-star hotels of Mendoza in providing services in the city of Mendoza.
In 2004 the Huentala Hotel held the remodeling of the building, with a total transformation of its architecture, with substantial improvements in infrastructure and services, as well as decoration, furniture, equipment, presentation rooms, new services and event spaces.
In 2013, Huentala Hotel completed its second renovation, including at this stage, the remodeling of the front and back of the hotel lobby. Also, the creation of a new salon, Pincanta, with capacity for 150 people, given the combination and demand for its strategic tranquillity and discretion The entire hotel is non-smoking.
The services included in the price are:
Welcome drink

WiFi in the rooms

WiFi in public areas

Coffee and tea in the room

Pillow menu

Spa. Wet and dry sauna

Gym

Outdoor pool (not heated)

Services No Charge

Breakfast buffet (7:00 to 10:30 and Weekend / weekends 7:00 to 11:00)

Wi-Fi throughout the hotel

Air conditioning

Jacuzzi Suites (not all)

Cable TV

Hairdryer

Amenities

Room Service

Medical Coverage

Swimming pool / Gym

Sauna

Security

Bilingual Staff

Business Center

Check in 15:00 (3 pm) / Check out 11:00 (11 AM)

Welcome drink

Pillow Menu
The entire hotel is non-smoking.
Huentala Art Gallery Hotel
Art is one of the characteristics that describe the hotel. Decorated with important works of art and sculpture, hotel framed in a high level.
Walking along the public areas, lobby, and on the concourse, you can find various tables, lamps, sculptures, and antiques, to behold.
The Chimpay Bistro is one of the 3 restaurants of Huentala it serves a daily buffet breakfast and a wide variety of dishes for dinner. The hotel also features local wine cellars. Guests can enjoy a drink in the Kunuk Bar and poolside.
Request your quotation/ Solicite su cotización
Payment methods / Medios de pago

Productos Relacionados / Related products