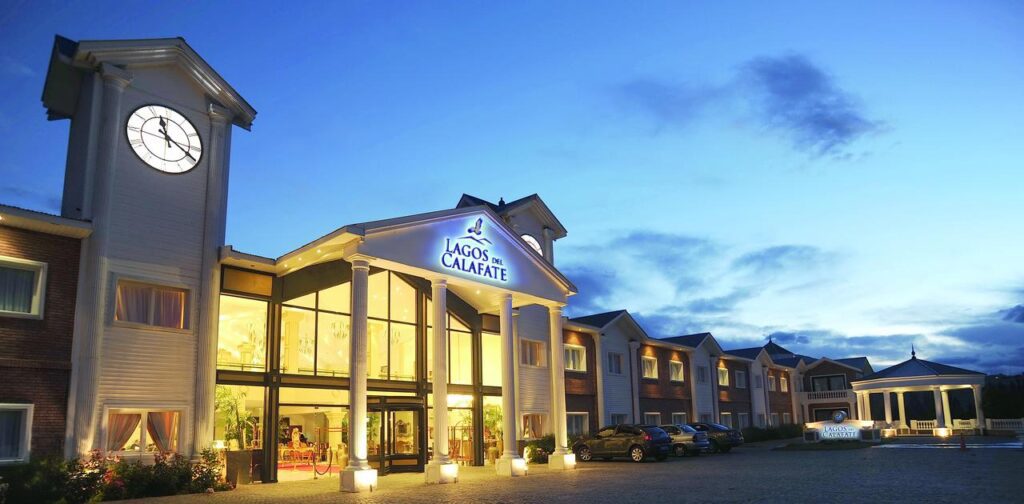 Lagos del Calafate Hotel
Lagos del Calafate is located just 2 blocks from the El Calafate downtown. This convenient location offers guests a wide choice of shops, restaurants and tourist attractions such as excursions and sport activities in the surrounding region. It lies 80 km from the Perito Moreno Glacier and 23 km from the El Calafate international airport.
This hotel was totally renovated and was built in chalet style with exquisite Patagonian interiors which blend in well with its surroundings of lakes, woods and mountains. It comprises a total of 50 comfortable and spacious rooms with all modern amenities.
The hotel rooms are well-equipped with a private bathroom with a shower/bathtub as well as a hairdryer, a direct dial telephone with international calling, a flat-screen TV with cable channels, a DVD player and wifi Internet access. They are also equipped with a minibar, a king-size bed, central heating and a safe.
Besides, Lagos del Calafate Hotel features a hot tub, a sauna and a steam bath. Guests can also relax with a massage or spa treatment for an additional fee. Sports enthusiasts may enjoy a work-out in the gym.
In the restaurant you will find regional specialties and guests can also enjoy a glass of Argentine wines in the hotel bar with its comfortable lounge and cozy fireplace.
Request your quotation/ Solicite su cotización
Payment methods / Medios de pago

Productos Relacionados / Related products