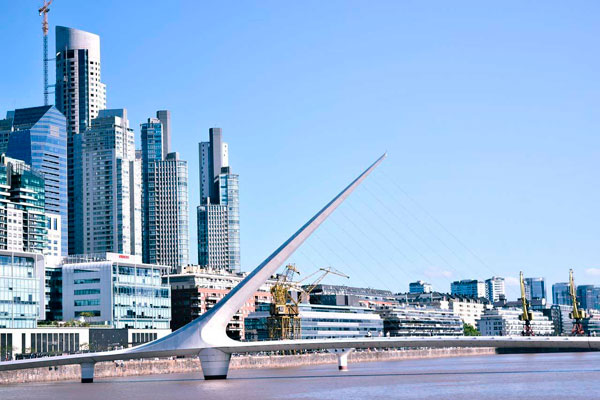 Sightseeing City Tour with lunch in Puerto Madero
Sightseeing City Tour with lunch in Puerto Madero
You will discover the beauty and magic of Buenos Aires starting from the Congress Palace, imposing neo-classic style building located at one end of De Mayo Avenue.
On the other end stands the Pink House, the government house and the Plaza de Mayo Square.
Surrounding the square stands the Cabildo, the old town city hall and the Cathedral. Drive along 9 de Julio Avenue to see the Colon Theatre, whose perfect acoustic made it famous all over the world.
Then into La Boca, a colourful district, dating back to the 19th century. Walk along Caminito Street, where paintings and crafts fair is held every weekend.  Continue to San Telmo, the oldest neighbourhood in the city, with its colonial houses, cobblestone streets, antiques shops and tango night clubs. Next, the residential neighbourhood of Palermo with its elegant mansions surrounded by parks.
Visit through outstanding spots: the Zoo, the Botanical garden, The Palermo Parks, the National Polo field and the Planetarium. On the way back visit another residential neighbourhood, the Recoleta, where fashionable restaurants, coffee shops, night-clubs and boutiques are located.
Visit to the Recoleta Cemetery to see its valuable works of art and Evita's tomb.
At the end of the trip you will enjoy a lunch at one of the most distinguished restaurants in Puerto Madero where you could try different cuts of meat and taste the biggest variety of starters, garnishes and desserts. All this in a unique place with an outstanding service. Drinks are not included and the return to the hotels will be on behalf of our dear tourist.
We don't offer this excursion separated:
This is an optional excursion to be added in our complete tour packages; including airfare, hotel, tours and transfers.
Productos Relacionados / Related products