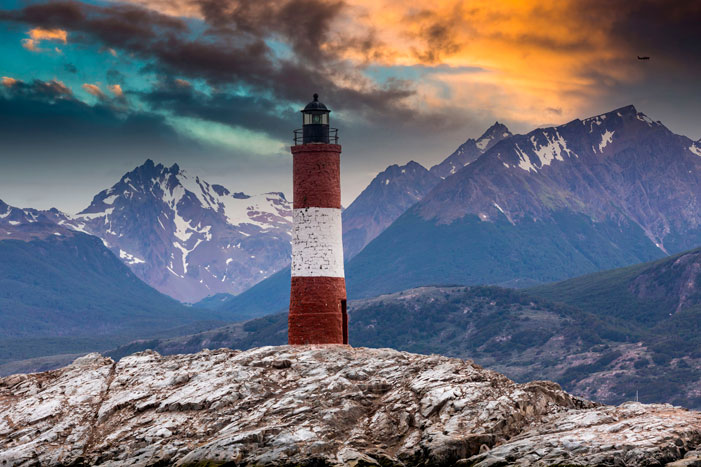 Tour to Ushuaia 4 days 3 nights
Tour to Ushuaia 4 days 3 nights
The Southernmost and intensely mythical land at the "End of the World"
Day by Day
DAY 1 – in Ushuaia
You will begin your tour in Ushuaia taking off from Buenos Aires airport. Once you land in Ushuaia, a tourist guide from ATN Travel Services will be waiting for you with a sign with your last name on it to transfer you to your hotel in Ushuaia.
We will pick you up in your hotel to invite you on a city tour of Ushuaia. During this sightseeing tour in Ushuaia you will get to visit the legendary and ancient Jail of recidivists that preserves its impressive architecture as well as its tough history in the south of Argentina. You will also get to visit the harbour and Paseo del Centenario, a great viewpoint where you can take in the panoramic view of the mountains chains. After that, you will go to the Bebán house. This building was bought by catalogue in Sweden in 1911; it was one of the most ambitious houses in Ushuaia for a long time. You will also see all the first settlers' houses. Finally, we will visit the city centre and the restricted area of the naval base.
DAY 2 – in Ushuaia
Breakfast in the hotel and departure on an adventurous full day tour entitled «Tierra del Fuego National Park with trekking and canoe ride» You will go for a two and a half hours trek along a path through the most beautiful part of the park, splitting your time between the woods and the shore. During the tour, you will observe a lot of flora formed by the massive trees as well as a great variety of birds native to these woods.
After the trek, you will board canoes and sail along the Beagle Channel. You will go up to Isla de Lobos and Isla Redonda while viewing the imperial cormorants. Continuing your tour, you will disembark on the island to have a coffee break in a refuge where the native Yamaná Indian people used to live, while enjoying a spectacular view of the Beagle Channel. After the break, you will have some time to rest and in the early afternoon we will continue riding until you reach Lapataia Bay to see marine birds. Finally, you will return to Ushuaia by land at approximately 6 p.m.
DAY 3 – in Ushuaia
Breakfast in the hotel and a half day tour entitled «Catamaran trip in the Beagle Channel». Starting your tour, the catamaran will depart from the tourist pier. You will then sail along Isla de los Lobos, Isla de los pajaros and the Les Eclaireus lighthouse where you can observe many species of local birds and seals.
On one of these islands, it is also possible to observe pieces of the ship Monte Cervantes, which was shipwrecked in 1930. On the way back to Ushuaia, you will have a view of the beautiful Le Martial Mount and its glacier. This boat trip includes views of a combination of sea and mountains and is an incredible experience that will remain in your heart long after you have returned home.
DAY 4 – in Ushuaia
Breakfast. Transfer to the airport. Return to Buenos Aires. End of the Ushuaia tour.
The tour includes:
Flights: Buenos Aires – Ushuaia – Buenos Aires.

Transfers in/Out Airport – Hotel – Airport.

Half-day boat trip in the Beagle Channel.

City tour in Ushuaia.

Tierra del Fuego National Park with trekking and canoe ride.

3 Hotel nights with breakfast included in Ushuaia.

English/Spanish-speaking tourist guides.

Group Service sharing the bus with other tourists.

Quality in services.
The tour doesn't include:
 Entrance fee to the National Park.
Note: The activity of trekking and canoeing in  Tierra del Fuego National Park is only available from October to March due to weather. After these months the tour will be only with half day duration and without the trekking and canoeing.
This trip can be tailor-made for a time to suit you and can

be adapted to suit your interests, budget and requirements as necessary.
Productos Relacionados / Related products