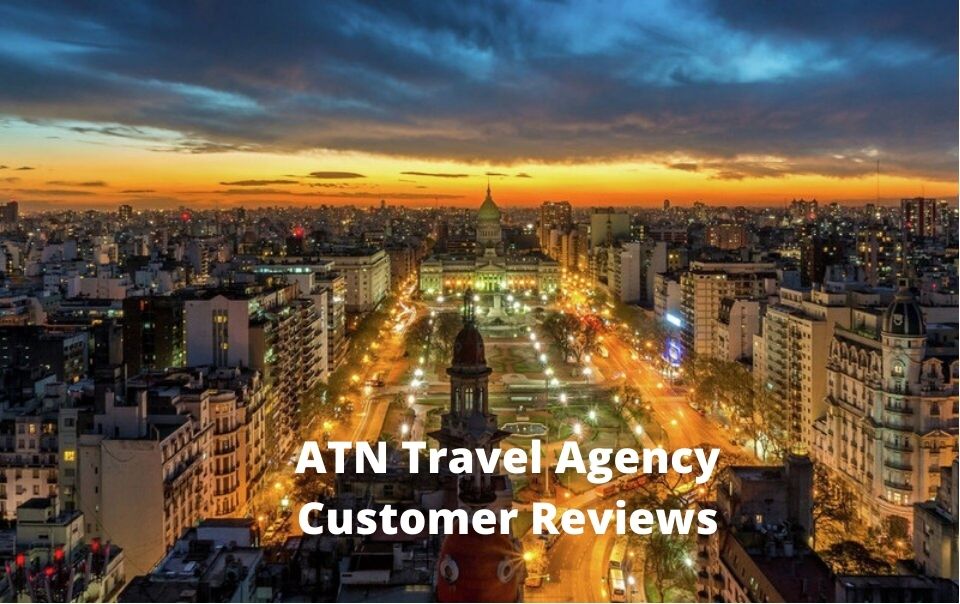 More Customer Reviews – ATN Travel Agency
---
Dear Griselda, our Iguazu trip was fantastic.
Good organized, good accomodation, and good guiding. So we are very satisfied.
Best regards,
Ivan D S (From Belgium) – February 2023 (Tour to Buenos Aires and Iguazu falls)
---
We had a wonderful trip booked by ATN Travel Services. The flights we great, our private guide was so wonderful. We bypassed long lines at the border and at the parks entrances. Everything that was promised was delivered. As an American traveler, I highly recommend using ATN.
Evelyn S (From USA) – January 2023 (Tour to Iguazu falls)
---
ATN provided both hotel in Buenos Aires and Iguazu Falls – trip advice and organisation. They proved themselves worthy of my trust, providing prompt and friendly help as I was in the UK and organising for a solo trip to South America. Highly recommend.
Abigail SG (From London, UK) – January 2023 (Tour to Buenos Aires and Iguazu falls)
---
Griselda Capo of ATN Travel Services was extremely helpful in arranging this tour for us. She was prompt in resolving any issues that we had. The trip was just as described and all the travel arrangements were smooth with ontime pick ups etc. The guides for the tours were helpful and the Falls were just beautiful. Thank you Griselda!
By Connie W (From canada) – January 2023 (Tour to Iguazu Falls)
---
"ATN's recommendations for our schedule, accommodation, tours, and tour guides were delightful. When I had delays and disruptions, Griselda quickly resolved every issue, and I didn't miss anything. I could not have done this without her support. I highly recommend Griselda and ATN Travel Services."
All my best wishes for 2023.
Barbara G (From Canada) – December 2022 (Tour to Iguazu falls and Buenos Aires)
---
It was a beautiful trip, the places are so beautiful. it was well organized, and we always got quick support. I wanted also to say that both local agencies provided very good services, very professional!
Merry Christmas and happy new year, and congratulations for the World Cup, I was so sad I couldn't stay in BA for the final, but as I am from Napoli, our heart is a bit Argentinian, so I was so happy to see you winning!
Best regards,
By Eleonora S (From Italy) – December 2022 (Tour to Ushuaia and El Calafate)
---
Super experience, from start to finish. From dealing with office staff when booking at the outset of planning every aspect of this trip was excellent. Our accommodation exceeded our expectations, our transfers went according to plan and the tour guides were superb. Great value for money, highly recommend this agency.
By Margaret M (From Ireland) – December 2022 (Tour to Iguazu Falls)
---
The organisation worked flawlessly. Flights, transfer, hotel and the booked tours, everything worked perfectly. Next time we will use your company again, definitely!
By Harald R (From Germany) – December 2022 (Tour to Iguazu Falls)
---
My self and my friend had the most fantastic experience in Iguazu, the pick up from the airport was very well organised, the hotel was very good standard and the pool was very welcomed. The trip to the Argentine side was well organised and our guide for the day was very knowledgeable and very kind, can highly recommend paying to to the speed boat trip at the end. The trip to Brazil side was very good too and the guide Marco Antonio was very funny and again looked after us well, shame we couldn't have stayed longer. It's a shame I can't remember the names of the first guides we had, would love to have entered his name.
Argentine is a very lovely country and Iguazu is the icing on the cake.
Home now in Gales and it is cold.
Thank you for putting together this lovely experience.
Regards
Sarah (From UK) – December 2022 (Tour to Iguazu Falls)
---
Hola Griselda! El viaje fue genial, me encantó todo mucho y lo disfruté muchísimo!! Buena gestión y todo fácil. Muchas gracias por tu ayuda y tu gestión! 😊😊😊
Saludos,
Sara (España) – Noviembre 2022 (Tour a las Cataratas del Iguazú)
---
Hola Griselda! Todo fue genial! El trato fue excelente y los guías que tuvimos nos encantaron. Ha sido muy buena experiencia. No tuvimos ningún contratiempo y estuvieron muy pendientes de nosotras.Muchas gracias por todo!
Henar (España) – Noviembre 2022 (Tour a las Cataratas del Iguazú)
---
Les agradezco de corazón la organización de todas las actividades de mi viaje al sur.
Todo estuvo coordinado al 100 por ciento.
Todos los guías fueron gentiles y amables. Los dos hoteles son de calidad, buen servicio, y buena ubicación.
Gracias por todo.
Cristina (Panamá) – Noviembre 2022 (Tour a Ushuaia y El Calafate)
---
I was a solo traveler, had a great time, everything went well, good airport transfer, comfortable accommodation in a good position, really welcoming people. I enjoyed the unforgettable views. Thank you very much.
By Silvia P (From Italy) – November 2022 (Tour to Iguazu Falls and Salta & Jujuy)
---
Griselda it was wonderful. The Hotel Panoramic was lovely, walking distance to town, well appointed and the staff were very friendly and pleasant. The guide on the tour of the Argentine falls was very helpful. I thoroughly enjoyed the trip.
Thank you.
By Mary (From canada) – November 2022 (Tour to Iguazu Falls)
---
Griselda at ATN travel service gave impeccable, warm service. The trip she arranged to Iguazu Falls was perfect. The connections, flights, hotel and guided tours were perfect . She communicated regularly and made us feel very well taken care of. The hotel was excellent and the tour guides were very knowledgeable and friendly.
I can't think of anything that Griselda at ATN could have done to make the trip any better. I hope I'll get back to your beautiful country again one day. Muchos Gracias Griselda – Hasta Luego !
By Pam (From Canada) – October 2022 (Tour to Iguazu Falls)
---
Buenas tardes Griselda, te escribo para agradecerte por la atención brindada para la compra de los tours a la ciudad de Mendoza y El Calafate, excelente servicio, todo muy bien organizado y puntual, disfrutamos mucho la estadía en estos dos lugares. Esperamos volver a visitar Argentina y no dudaremos de contratar nuevamente tus servicios.
Saludos desde Panamá
Angélica (De Panamá) – Agosto 2022 (Tour a Mendoza y El Calafate)
---
Griselda, the Iguazu Falls trip was fantastic. The tour guides, hotel and the Falls themselves were all outstanding.
When I planned my trip to Argentina, I was hopeful the trips to El Calafate and Iguazu Falls would be worth the time and effort and I wasn't disappointed. I really had a great time on both trips. The trips was outstanding. I would recommend this travel agent and company to anyone expecting quality service and accommodations. Highly recommended!!
Thank you again for your professionalism!!
Thank you,
By Joe P (From USA) – August, 2022 (Tour to El Calafate and Iguazu Falls)
---
Previous Page with Customer Reviews